Bombardier aerospace is boosted by biggest order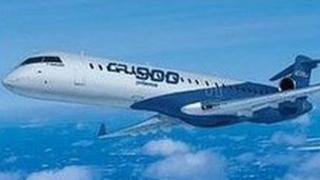 The aerospace division of Bombardier has turned the corner with business jet orders picking up substantially in the fourth quarter.
Bombardier Inc. reported a jump in its fourth-quarter earnings which exceeded predictions, sending its stock up more than 10%.
The company received the largest order in its aircraft business history. It was worth £1.74bn.
Bombardier Aerospace in Belfast makes aircraft structures and employs 5,000.
The structures it makes include fuselages, wings, engine nacelles and flight control surfaces in metal and advanced composites for Bombardier's families of commercial and business aircraft.
It also produces nacelle components for Rolls-Royce, Airbus and General Electric.
Company president and chief executive Pierre Beaudoin said: "This past year has been challenging, yet positive.
"Our efforts to lean out our cost structure combined with our continued focus on operational excellence have enabled us to increase our profitability despite this year's reduction in revenues."
Progress
At Bombardier Aerospace, revenues totalled $8.6 bn (£53.6bn), compared to $9.4 bn (£58.6bn) the last fiscal year.
"In Aerospace, we seem to have turned the corner with business jet orders picking up substantially in the fourth quarter.
"To further strengthen our product leadership position, we continued to make progress on the development of new products within our business and commercial aircraft segments, both of which have healthy long-term growth prospects," Mr Beaudoin said.
The group recorded 201 orders (267 gross orders and 66 cancellations) in the fiscal year 2011, compared to 11 orders (213 gross orders and 202 cancellations) last year.
Deliveries fell to 244 aircraft, compared to 302 last year.
At the end of fiscal year 2011, Bombardier Aerospace received an order for 15 Q400 NextGen turboprops with options for an additional 15 aircraft from SpiceJet Ltd, establishing the Q400 NextGen airliner in the growing market of India.
In early March 2011, NetJets Inc. placed a firm order for 30 Global 5000 Vision and GlobalExpress XRS Vision aircraft and 20 Global 7000 and Global 8000 aircraft.
They also took the option for an additional 70 aircraft.
Bombardier in Belfast is responsible for the design and manufacture of the Global 5000 and Global XRS business jets which form part of the order.
Based on list prices, the value of the firm order is $2.8 bn (£1.74bn), which could increase to $6.7 bn (£4.17bn) if all options are exercised.
This was the largest order ever received in the aircrafts business' history.