MLAs and councillors in conflict over new powers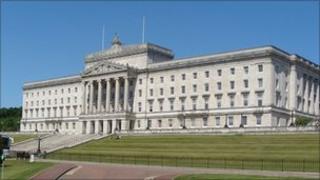 We've more polls taking place on May 5 than you could shake a big stick at.
There's the assembly, the referendum on the alternative vote system for Westminster elections, and there's the local government elections for our 26 district councils.
Three for the price of one - you don't get much better than that these days unless you're buying property in Ireland, but we'll save the economics for later in the campaign. For in the first of our first Politics Show election specials we focus on local government.
We're in Coleraine on the banks of the Bann for a look at the issues that matter at local level. We're joined by representatives from all the main parties and an audience armed with some tough questions.
There's considerable tension between the assembly and local government at the moment - not just over the failure to agree reform but also over a whole raft of new powers which Stormont is keen for councils to assume.
More power for local government, why would they complain? Primarily because they feel Stormont is trying to offload the unwanted stuff to them without the necessary training and finance.
For instance, the environment minister wants most planning to move to local councils and the agriculture minister has put through legislation which will move animal welfare responsibility down to councils.
Though councillors want planning power in principle, they're concerned that the driving force behind the change is the DoE's need to save money, leaving them to pass on costs to ratepayers.
With animal welfare the objections are two-fold in that these are powers they didn't want and they believe they're not being properly funded.
Even though the minister says she's giving them the money - £760,000 per year - the local government association estimates that it would need ten times the amount from central government to avoid having to put up rates.
Such issues have created real tensions within parties - not just between them - as local councillors square up to their MLAs.
On Sunday we'll explore these points of tension in some detail and we'll put our politicians on the spot on these important local issues.
Jim