Simon Glenn, 26, was man killed in Omagh car crash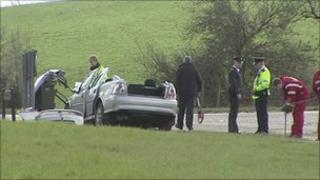 Police have released the name of the 26-year-old man who died in a car crash near Omagh, County Tyrone.
Simon Glenn, from the Strabane area, was involved in a collision on Dougary Road at about 0410 BST on Saturday.
Two women, aged 48 and 23, and a three year-old girl, who were travelling with him have been taken to hospital. Their injuries are not life threatening.
The 18 year-old driver of another vehicle involved in the accident remains in police custody.