Northern Ireland rate bills for 2011/2012 due out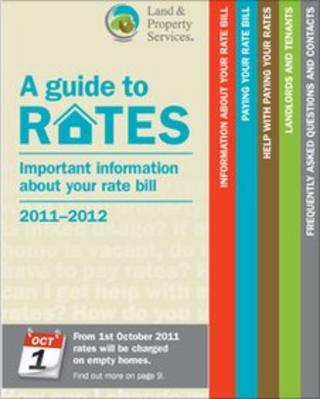 Homes and businesses across Northern Ireland are due to receive their rate bills this week.
The bills will be issued by Land and Property Services (LPS), the agency responsible for collecting rates.
The bills cover the period 2011/12 as well as any debt carried forward from previous years.
Rates fund public services such as healthcare, education and roads as well as helping to fund a number of council services.
The agency are also issuing a booklet with information about how the bill is calculated, methods of payment, and how property owners can get help with paying their rates.
Domestic ratepayers are entitled to a 4% discount if their rate bill is paid in full by 6 May.
A spokesperson for LPS said ratepayers should remember that there are also a range of reliefs and entitlements available to help pay both domestic and business rate bills.
"If you are having trouble paying your rate bill we would encourage you to make contact with us to see if you are entitled to any of the rate reliefs available or to enter into a payment agreement with us," he said.
"You can also pay by direct debit. This is the easiest method of payment and can help you to spread the cost of your rate bill.
"A number of other payment options are available including standing order, telephone and internet banking, cheque, online and using a 'Rates QuickPay Card' which customers bring along to any Post Office or one of the 800 participating payzone outlets."
LPS and the NI Direct website will hold a one-hour online session on Thursday 21 April to answer questions about the bills.