Lynn Coburn killed in stabbing at Connor, County Antrim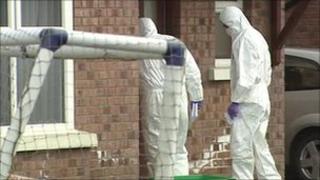 The woman who died in a knife attack in Country Antrim on Sunday has been named locally as Lynn Coburn, 52.
Her 31-year-old son was also stabbed. He is in a stable condition.
Mrs Coburn's 33-year-old son is being questioned by police.
It follows an incident at a house at Rossburn Manor, Connor, Kells, near Ballymena on Sunday at about 1230 BST. Neighbour John Dickson said neighbours were "stunned" by what happened.
He was one of the first people on the scene.
"It was the usual Sunday morning, very quiet and very peaceful," he said.
"I looked out of the window and saw my neighbour administering first aid to a gentleman on his front lawn. I was shocked and we went out to see what we could do to help."
Mr Dickson said the injured man had been able to communicate the fact that he had been stabbed.
Jim Flanagan, the editor of the local paper the Ballymena Guardian, said that "at present there are more questions than answers".
"Obviously, what is clear is that a dreadful human tragedy is emerging," he said.
"Of course the added poignancy of it happening on Mother's Day when people were sitting down with their mums to celebrate a happy and special occasion only added to the sense of consternation that something so dreadful could happen in a quiet country village on a Sunday afternoon.
"Everyone in that village would know everyone else. It will cause a major blow to the community."