Derry bishops condemn PSNI Ronan Kerr car bomb murder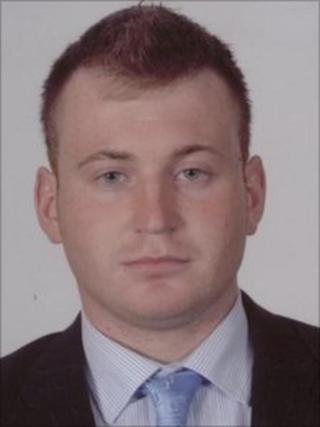 Catholic and Church of Ireland bishops in the north west have condemned the murder of police officer Ronan Kerr.
The 25-year-old constable, who was Catholic, was killed when a booby-trapped bomb exploded beneath his car on Saturday morning.
No group has admitted carrying out the attack but police believe dissident republicans are to blame.
The Bishop of Derry, Seamus Hegarty, and Bishop of Derry and Raphoe, Ken Good, urged people to support the PSNI.
Seamus Hegarty said, "This crime, against a man who served and protected the public, is a crime against all in our society," he said.
"I call upon anyone with information regarding this brutal killing to provide that information to the police."
He said that the police performed a valuable function in society.
"I would encourage people of all creeds and denominations to regard the police as a very noble vocation and a very noble way of serving the community," he said.
"I hope the tragedy of Constable Ronan Kerr will not deter people, Catholics and non-catholics, from continuing to choose the police as a vocation."
Heinous crime
Ken Good, the Bishop of Derry and Raphoe, said the killing had brought needless devastation to constable Kerr's family.
"The cruelty and shame of those who committed this act, either in planting the device or in supplying of information, is displayed to all of the world, " he said.
He offered support to constable Kerr's family.
"We call on all people of faith to hold them in their prayers; and we ask everyone to support the PSNI in every way possible as they seek to protect the public and bring justice to the perpetrators of today's heinous crime.
"There are no words to adequately describe the inhumanity of the murder of a young PSNI officer in Omagh today."