Gang members jailed for conspiring to imprison women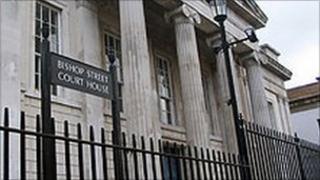 Three members of an armed gang who pleaded guilty to conspiring to falsely imprison and rob three women have been jailed at Londonderry Crown Court.
The victims included a mother and a daughter who were employees of the Northern Bank at the time.
It happened in Magherfelt in the women's home in October 2009.
Judge Piers Grant described the operation as "sophisticated" but he accepted none of the three defendants was the ringleader.
Two of the men were arrested in a field outside their victims' home following a stake-out by armed police officers.
34-year-old Richard Manson from Analong in Co Down and Terence Lunney, 27, from Nelson Street in Belfast were both jailed for four and a half years.
During the police operation officers recovered two firearms, masks, wrist cables and latex gloves.
A third defendant, who was the long-term boyfriend of one of the victims, was arrested while visiting his girlfriend.
25-year-old Ruairi Brady Larkin, aged 25, from Sandymount in Magherafelt, was jailed for two and a half years.