Police attacked whilst dealing with Lurgan bomb hoaxes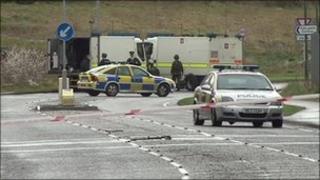 Police officers have come under petrol bomb attack during disturbances in Lurgan, County Armagh.
The police said there were also reports of a firearm being seen during trouble in the Bell's Row area of the town.
Several attempts were made to hijack cars and one hijacked vehicle was later recovered.
The officers were attacked while carrying out searches in relation to a hoax object in Victoria Street.
Earlier on Monday two bomb alerts in County Armagh were declared "elaborate hoaxes".
The Tullygally Road in Craigavon had been closed after reports of a suspect object in the area. It also caused Brownlow Integrated College to close.
The other alert in Lurgan started after a warning that a bomb had been left on waste ground at a disused factory.