Toome bomb alert: Army bomb experts deal with device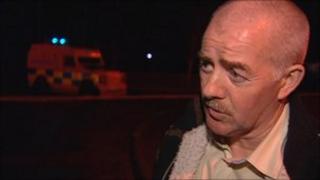 Police have said an object found attached to a van in County Antrim on Monday night was a hoax.
The device was discovered while the van was parked outside a shop in Toome.
Sinn Fein councillor Peter Bateson, who said the object looked like a pipe bomb, intervened to drive the vehicle to waste ground.
Blackpark Road between the Elk bar and the Creagh Road was closed for a time while army bomb experts examined the object.
"I received a phone call to say there was an incident at the local shop here," Mr Bateson added.
"I arrived at the shop and it became very clear that there was a device which looked like a pipe bomb on the windscreen.
"There must have been 40 or 50 children just milling about round the area."
A security alert at Limestone Road in Belfast which began on Monday night is now over. Police have allowed a number of residents moved from their homes to return.