Taoiseach to speak to Cameron about PSNI recruitment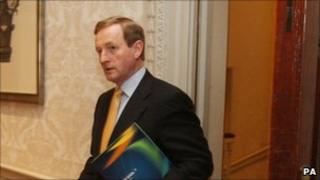 Irish Prime Minister Enda Kenny has expressed concern about the ending of 50 - 50 recruitment to the Northern Ireland police (PSNI).
Mr Kenny said he would be raising the issue with British Prime Minister David Cameron at their next meeting.
Secretary of State Owen Paterson recently announced the ending of 50 - 50.
He said the policy of ensuring 50% Catholic recruitment could no longer be justified.
Mr Kenny was speaking in the Irish parliament, the Dail.
He replied to a call from the Sinn Fein leader, Gerry Adams, who said the decison to end 50 - 50 had been a unilateral decision on the part of the British government.
Fianna Fail leader Micheal Martin said the previous Irish government had also expressed its opposition to the decision to Westminster.
The 50 - 50 process was introduced as part of the Patten policing reforms and was aimed at increasing the number of Catholic officers.
When it was first introduced, Catholics made up about 8% of the police.
Almost 30% of officers are now from a Catholic background.
Fifty - fifty has been opposed by unionist politicians throughout its 10-year history.