Northern Bank report: Sharp fall in consumer confidence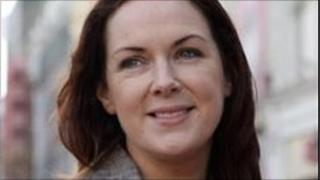 Consumer confidence in Northern Ireland has experienced its sharpest decline since 2008, according to Northern Bank.
The latest findings are contained in the bank's Consumer Confidence survey.
The survey looks at the financial position of local households and their expectations for the year ahead.
Its chief economist, Angela McGowan, said: "Consumers are fretting about reduced public spending and they are feeling the impact of higher VAT, higher energy and food prices."
The overall index fell to 94 in quarter one of 2011, from 108 in quarter four of 2010.
It has also dipped below the previous low point of 100 which was recorded in September 2008.
Of the 1,000 people surveyed, 11% believed that their household finances would improve, while 42% felt that their financial position would worsen.
That was an increase of 10 percentage points from the last survey.
Ms McGowan said at a time when many other global economies are strongly rebounding, "it is unfortunate that the UK's recovery is so weak".
Outlook
"Despite a record number of investments and job creation announcements in the local economy in quarter one, public morale is clearly very low," she said.
"The latest survey results demonstrate a need for our business and political leaders to provide reassurance to the public that they can adequately cope with reduced public spending.
"We also need more overt signals that our leaders are capable of working together to steer the economy on to a high-growth trajectory."
Ms McGowan said the economic outlook was testing in terms of inflation and reduced public expenditure.
"The situation is nowhere near as precarious as it was back in 2008 when the global financial industry collapsed," she said.
"Without doubt there are challenges ahead and household incomes will be squeezed, but economic opportunities are also on the horizon.
"The global economy is set to grow by 4.7% this year but unfortunately local households are more focused on local public spending cuts and higher prices."
More than 1,000 people were surveyed in March 2011 for the report.
The Consumer Confidence Index for Northern Ireland examines four key areas which include information on personal finances compared to 12 months ago, as well as consumers' expectations for spending, job security and their general financial position over the next 12 months.
The survey also gathers information on household savings.