Investigation into Irish police rape comments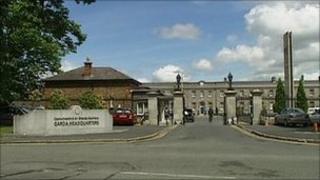 An Irish police ombudsman investigation is underway into police behaviour towards protestors in County Mayo.
A recording where Irish police allegedly discuss rape in relation to a female campaigner they had arrested was released by the Shell to Sea group.
It is believed to have happened after police confiscated a video camera.
The police ombudsmans commission said it had not received a report about the incident, but said it was in the public interest to investigate it.
A senior police officer from outside the region has been appointed to carry out a separate investigation.
The two women had travelled to County Mayo to support the Shell to Sea protest. One of them had climbed onto a tractor and the other was filming her with a video camera.
They were both arrested and taken to Belmullet police Station. The camera was placed in a second patrol car.
The campaigners said the police did not realise it was still recording. When the camera was handed back to the two women it contained details of a conversation between the police in the second patrol car.
A Shell to Sea spokesperson said the alleged remarks made by the police were "shocking and disturbing".