Platinum gym in Derry: bankruptcy expected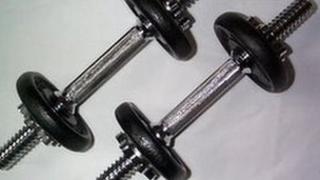 The owner of a gym in Londonderry is expected to be declared bankrupt on Friday, leaving dozens of customers out of pocket.
Platinum Gym in Springtown closed last week and is expected to go into liquidation in the coming weeks.
Some customers say they paid membership fees just days beforehand.
Mehran Ghanbari, who runs the business, said he cannot guarantee members will get their money back.
"We were taking membership and running the business as usual because the intention was to pay these bills," he said.
"But once we realised that there was not enough to pay, we had to leave."
Mr Ghanbari also said he had no idea how much he owed employees who had not been paid.
"There's around twenty people between part-timers and full-timers, legally I have no idea what is going to happen next.
"As far as I know they are going to get paid at some point, but the date and when - I don't know the answer to that question."