Londonderry father admits child cruelty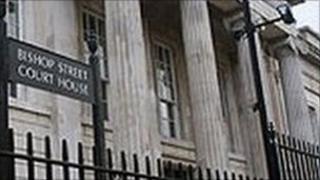 A 26 year-old Derry man who admitted to a charge of child cruelty against his baby son has been sentenced to sixty hours community service.
The defendant, who cannot be named for legal reasons, admitted lifting the 10-week-old by the leg and shaking him vigorously in 2009.
He was also sentenced to two years probation.
The Judge at Londonderry Crown Court said he would have gone to jail had there been any mark on the baby.
The court was told the defendant pulled his two-month-old from his cot and swung him by the leg for five minutes in a fit of temper.
He swore at the child and pulled him away from his mother when she tried to intervene and pulled the phone away from her when she tried to call the police.
The defendant said he had acted in a moment of madness and was in a difficult relationship with his partner.
He also said he was having trouble coping with the sleeping patterns of the baby.
His solicitor said his client was immature when it came to his parental responsibility and said he had no history of domestic violence.
Judge Grant warned the defendant if he re-offended in any way during his two year probation period a prison sentence would be almost inevitable.