Catch yourself on... it's only a bit of craic, so it is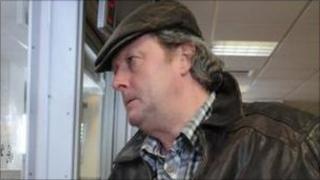 A Northern Irish man walks into bank with a flat cap, a shotgun and says this is a hold up, so it is...
Sounds like the beginning of one of 'those jokes'. Instead it was a line in Coronation Street after Jim McDonald, who is short of cash, decides to rob a building society.
So far so stereotypical, but is it a case of Northern Irish people being given an unfair portrayal or does everyone carry a gun and say "so it is" after every sentence?
I've lived here for over three years and can confirm they don't all carry guns, only say "so it is" some of the time, and have a brilliant sense of humour: so where's the problem?
In the soap, Jim's ex-wife Liz wants to buy the Rovers pub from their son Steve, lacking in funds Jim tries to help with disastrous consequences.
Armed police finally arrest him and he waves good bye to Elizabeth as he heads off to the big house (prison).
Despite being a popular character Jim has had a troubled background in the soap, the ex-army man has a violent past, a hatred of the police and a problem with drinking.
"Catch yourself on"
According to Wikipedia: "The character is noted for his violent nature and his passionate love for Liz McDonald."
Charlie Lawson, who has played Jim McDonald since the character first appeared on the soap in 1989, said it was never meant to be offensive, and the phrases are "a bit of craic".
"Anyone who doesn't see the funny side doesn't have a sense of humour," he said.
"I am very proud of the character and it isn't mocking Northern Ireland at all.
"When I started to play the part it was all written with a Mancunian accent so obviously it had to be changed.
"Over the years I would add in a few bits, but now the scriptwriters know how he talks.
"At the start I was often asked did I think Jim painted a bad picture of people from Northern Ireland.
"Back in those days things were very different here and I remember saying 'I think there's a few of our politicians that have given the place more of a bad name than Jim does'."
Charlie, who has played the character on and off for nearly 12 years said he has a soft spot for the loveable rogue.
"He was desperate when he went in to that bank," he said.
"He had the chance to get back with Elizabeth, help her get the Rovers and help Steve, he did it for his family so I have a bit of sympathy for him."
James Claridge, 25, from Leamington Spa is usually a salesman, but after being swept up in the plight of Jim McDonald and his arrest he set up a campaign on facebook.
"I'm not necessarily Corrie's biggest fan but me and my mates have always done Jim's accent and his sayings since we were kids," he said.
On Tuesday he created the facebook page: Free Jim McDonald. He's Innocent, So he is.
"I thought it would just be a bit of banter for me and my mates, it's grown to nearly 14,000 followers in 48 hours, it's just madness.
"To be honest I think he's the last outlaw of good soap characters, he's got good sayings and he's a bit of a lad.
"I can see why people think it's a bad stereotype and I can't speak for all people in England, but I know people don't see him like that, I think he's probably one of the most liked characters in soap history."
"Jim McDonald is a legend, so he is, and I think that having so many followers in such a short time shows his popularity."
Tim McGarry is a member of the NI comedy group Hole In The Wall Gang, and played "Da", a fictional Sinn Fein spokesman, in the comedy series Give My Head Peace.
The north Belfast actor said: "Of course we still get stereotyped in Northern Ireland but it's only because of our accent."
"Let's face it, we can make a thank you sound like a death threat," he said.
Legend
"I think we should all get involved in freeing Jim McDonald, he only robbed the bank to try and get by.
"We should free him, send him to elocution lessons and get Jim a job on Downtown Abbey.
"In all seriousness, I don't find the phrases or the character offensive in the slightest."
When I spoke to Charlie Lawson I told him about the online campaign and he was genuinely surprised.
"I'm absolutely chuffed, I don't have a computer here so I'll get my wife to have a look," he said.
"The more people that get involved in his cause the better, so it is.
"We might even be able to get Jim some psychiatric help and get him out of the big house.
"Seriously, I'm very flattered and I'll raise a glass to the lot of them in the boozer tonight."