No A-level re-sits for Ballymena students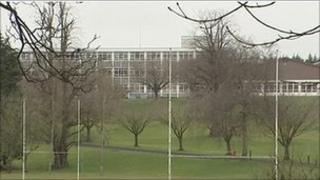 Students whose A-level results were withheld because of a breach of confidentiality in their school have been told they will not have to re-sit the exam.
Last month, 33 pupils at Ballymena Academy were told they may have to re-take an English Literature module.
The exams body, the CCEA, said on Friday that it had found a problem with one part of the test.
However, it said a re-sit will not take place.
It confirmed there had been a breach of confidentiality, but said it has now adjusted the marks to take account of the pupils' performances in the rest of the test.
It is understood the teacher involved is still suspended from the school and investigations are ongoing.
Ballymena Academy said it is pleased that the pupils can now make decisions and plan ahead.
It paid tribute to the young people who they said "have shown strength of character and maintained their focus throughout".