Dear Diary: Radio Ulster documentary on WW2 in NI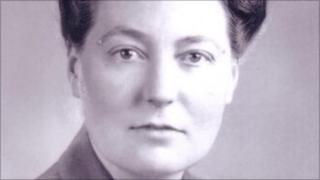 Mass Observation, a project established in 1937, asked hundreds of volunteers, including five from Northern Ireland, to keep diaries describing their everyday lives.
The project welcomed thoughts on all subjects: politics, friendship, reading habits and dreams. But, with the outbreak of war in 1939, everything changed.
Five diarists from Northern Ireland provide vivid first hand accounts of the war years here: the black-outs, food rationing, curfews and, most powerful of all, descriptions of the blitz of Belfast in Easter 1941.
Now to mark the 70th anniversary of the Belfast Blitz, BBC Radio Ulster opens the diaries of these local Mass Observation volunteers for the first time to discover the hopes and fears of people here during wartime.
Dear Diary
It was in a specially air conditioned room in the University of Sussex, where the temperature is maintained at a constant 13C, that I finally got to see a collection of notebooks, journals and scraps of paper - some over 70 years old - which contained a people's history of a world at war.
In 1937, volunteers were invited to take part in a nationwide experiment. By keeping journals of their everyday lives and posting their reports to an address in London, their observations, great and small, would be used to paint a picture of contemporary life.
The project was called 'Mass Observation'.
Five diarists from Northern Ireland took part: Samuel Harrison, a 19-year-old student from Armagh; RW Reynolds, a classics teacher from Coleraine Inst; FH McNaughton, a landowner from Bushmills; Moya Woodside, a health inspector from Belfast, and Doreen Bates, a civil servant.
RW Reynolds was among Mass Observation's first flush of recruits. And on 12 May, 1937, he filed his account of listening to the Coronation of King George VI on a wireless at the home of his wife's parents.
"The introductory homage was boring to me," he notes. "The King's speech too long. Comments on his voice and impediment were general and sympathetic. Pity it wasn't Edward, all the same. He's very popular."
World at war
By the end of the decade Europe was at war. And in Armagh, Samuel Harrison was posting powerful accounts of his changing world.
Samuel wrote: "We climbed up to an old fort, one of seven guarding the Navan Fort (near the town) in ancient times.
"Everything was very quiet and it was strange to think that once people had fought here for some cause worth more than life to them, just as people were fighting at present in Germany and Poland.
"Now the fort was deserted and peaceful, (just as the battlefields of Europe will be someday), and the cause fought for there is forgotten."
But it is the diaries of two women which provide the most vivid accounts of wartime Northern Ireland.
Belfast Blitz
Moya Woodside was a health worker based in the university area of south Belfast. From 1940 through to the end of the war she wrote daily detailed reports on how everyday life had been transformed by the onset of war: the rationing, the black-out, the travel restrictions and the censorship.
And then, at Easter 1941, bombs fell on the city. Her husband, a surgeon, rushed to the hospital while Moya sat alone and afraid in the basement of her home at Elmwood Avenue.
Across town, at Sydenham, a civil servant from London had rented rooms at Victoria Road. Within weeks of her arrival in March, the blitz had begun.
Having weathered air raids on London, Doreen Bates was critical of Belfast's unreadiness for attack and coolly describes the sensation of being bombarded by wave after wave of German bombers.
She wrote: "Several times the bed swayed like a cot being rocked; doors and windows rattled; shrapnel patted on the shed roof outside; I could see again the glare of fires.
"The most nerve-wracking thing to me was when the Germans glided in silently and the only sound was the crump of bombs.
"I went over poems in my head - they seemed even lovelier and more permanent in that inferno. Having exhausted those I could remember I went on to hymns and psalms, but I could remember fewer of these.
"This morning it was good to be alive and I enjoyed every crumb of breakfast."
The Mass Observation diaries are a snapshot both of the events that shaped our history, and the social mores of the age.
In a time before tweets and blogs, they provide an unvarnished spontaneous account of a world in the throes of dramatic change.
To get to see them up close, immaculately preserved and cherished at the University of Sussex, was to be afforded a glimpse into another world, an unforgettable experience.
Dear Diary is on Radio Ulster, Sunday 17 April at 1330 BST.