Van Morrison News of the World ban lifted by court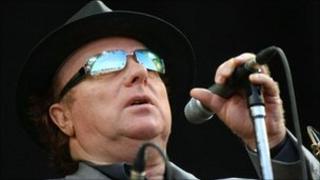 The High Court has lifted an injunction which prevented publication of details concerning Van Morrison's private life.
The News of the World applied for the discharge, which was granted on condition that no privacy laws are breached by the newspaper, and with Mr Morrison's consent.
This includes an undertaking not to publish descriptions or photographs of persons linked to the case.
The initial ruling was secured by Mr Morrison last October.
Last year's injunction stopped the News of the World from printing photographs of Mr Morrison, his home, and of businesswoman Gigi Lee.
At the time the judge declined to grant a so-called super-injunction, which would prevent any mention whatsoever of the subject, on the grounds that the scope of such a ban would be too wide.
Private life
In a sworn statement, Mr Morrison, 65, explained that while he performed in public, he regarded his private life as an area to be kept away from scrutiny or comment.
He said: "I have made considerable efforts to protect my private life and I have refused to be interviewed about it, to comment on it publicly or to authorise others to do so, save in very limited circumstances."
Mr Morrison stressed that he gave no authority for anyone to publish the information or photographs in question.
An article studied by the judge contained details of Mr Morrison's home, including its value and furnishing, and information about the input into its management from Ms Lee.
It also referred to staff residing there, physical descriptions of a child involved in the case, and visits made to the home.
'Unacceptable intrusion'
The News of the World argued that the original article did not contain private or intimate information about the relationship between the plaintiffs.
A journalist giving evidence claimed that the article amounted to a very low level of intrusiveness.
But Mr Justice Gillen ruled at the time that Mr Morrison's right to privacy outweighed that of freedom of expression.
He upheld that the public did not have a legitimate interest in knowing the private affairs of Mr Morrison and Ms Lee, and said that the article and photographs were an unacceptable intrusion on their privacy.
The full implications of lifting this injunction remain unclear, but the News of the World has nevertheless pledged to observe privacy rights in anything they publish.