Denis Donaldson murder: two suspects released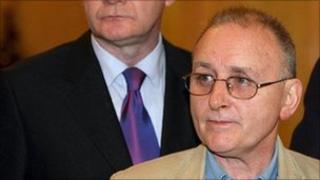 Two men who were being questioned by Irish police over the murder of a republican informer five years ago have been released without charge.
Denis Donaldson, a former senior Sinn Fein official from east Belfast, was shot dead at a remote cottage in County Donegal in April 2006.
Four months earlier, he had been expelled from the party after admitting being a paid British spy for 20 years.
One of the men who was arrested was 70 and the other was in his 30s.
They were arrested on Tuesday evening.
No-one has ever been charged with the murder.
Mr Donaldson was last seen by the Irish police (Garda) in Glenties on 3 April 2006, about 24 hours before he was murdered.
His body was discovered by a member of the public, who noticed his door open and dialled 999. He had been shot twice, once in the head and once in the arm.
Last week, his family called on the Garda and Police Service of Northern Ireland to do more to bring his killers to justice.