Several injured in hatchet, knife brawl in Rathenraw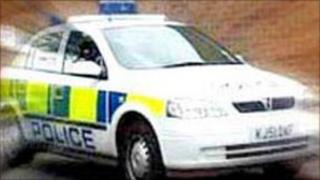 Three men have been arrested after a brawl involving knives and a hatchet in Antrim in the early hours of Friday in which several people were injured.
Police said more than a dozen people were involved in the clash at Devon Court in the Rathenraw estate.
A 52-year-old man is being treated in hospital for a serious eye injury.
A 24-year-old man suffered a serious head wound, a 29-year-old man received a neck injury and a 61-year-old man suffered a cut to his head.
A fifth man is also understood to have sustained cuts to his hands and arms.
A vehicle was rammed, causing significant damage to a house.
The three men who were arrested are aged 31, 29 and 24.
PSNI Antrim Area Commander Chief Inspector Natalie Wilson said: "The scenes witnessed in the Rathenraw estate last night were an absolute disgrace.
"There can be no motivation or excuse for bringing weapons and violence onto the streets of a residential area.
"The people living in the estate don't want it and the police service won't stand for it.
"I would urge anyone, especially people living within the estate, who have information about what happened last night to contact local police."