James Glennon Packaging fined over boy's lost hand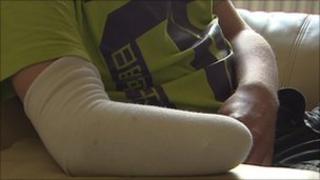 A Belfast teenager who lost his right hand in an industrial accident has said the injury has made his life "hell".
The firm responsible was fined £12,000 on Friday after admitting four breaches of health and safety regulations.
James Glennon Packaging Ltd, based in Dunmurry, has also been ordered to pay £1,194 in costs.
Conor Fitzsimmons was in his first week of work in January 2010 when he lost his hand in a printing machine.
He was trying to free a bag which had become stuck. But because there was no guard his right hand became caught up in the rollers.
Mr Fitzsimmons said he suffered "extreme pain" when his arm was trapped.
"It was all a blur. The ambulance and fire brigade came and the fire brigade had to open the machine up with these big power drills," he said.
The young employee had to have his right hand amputated following the accident.
Mr Fitzsimmons said his life had been "hell" since the accident.
"I can't tie shoe laces, can't put a pair of socks on, I can't do anything," he said.
'Dangerous moving parts'
"I would go out, but I can't do anything, even playing football I'm falling all the time because of my balance."
An investigation found that the company had not identified the hazards nor had it put sufficient safety measures in place.
The company had also failed to take account of the inexperience of young workers.
After the hearing Kevin Campbell, an inspector with the Health and Safety Executive for Northern Ireland's major investigation team, said it was "vital that companies identify and address hazards within the workplace".
"Measures must be taken to control and limit access to dangerous moving parts of machines," he said.
"The employer must carry out risk assessments which take account of the inexperience of young workers and ensure that they are adequately protected from any health and safety risks in the workplace."
The machine at James Glennon Packaging has now been fixed and a metal cover is in place to stop any repeat of the accident. The company was not available for comment.