Sean Quinn's removal by Anglo Irish Bank shocks locals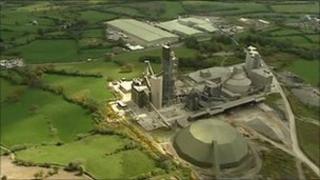 The decision by Anglo Irish Bank to remove Sean Quinn from his business empire has sent shockwaves through the border community in Fermanagh and Cavan.
The Quinn family owe the bank more than 2.88bn euro (£2.55bn).
Employees have been told there will be no job losses, but others doubt the assurances given by the Irish government that the long term future of the whole Quinn Group is secure.
There are mixed feelings amongst those who see Sean Quinn as the man who brought thousands of jobs to the region, rather than the billionaire who lost it all.
Four years ago he was the richest man in Ireland, worth 5bn euro (£4.4bn) according to Forbes magazine, but when he arrived at his headquarters yesterday Sean Quinn was told to leave.
Anglo Irish, the failed bank whose shares he gambled on the stockmarket, had called in his debt and removed him from owning or managing the businesses.
The most profitable part of his empire, Quinn Insurance, which has been in administration for over a year, is to be sold.
The new company, led by US insurer Liberty Mutual, has yet to be formally approved, but has pledged to keep almost all 1,600 jobs, including 450 staff in Enniskillen.
That news has been welcomed by employees, including Elaine Kiernan from Belleek.
"After all the uncertainty of the last 13 months, we now know that our jobs are going to be secure and safe, which is obviously good for Fermanagh and Enniskillen," she said.
"On the other side though, you have to spare a thought for Sean Quinn and his family who are obviously going through a very difficult time at the minute."
Elaine Curry from Enniskillen says staff are relieved and looking forward to the future.
'Absolutely disgraceful'
"Stress seems to have just disappeared overnight. Everybody is smiling, very positive for the future and the new company that will be coming in with us which is great.
"Obviously we feel for the Quinn family and that it has come to this and we are obviously very conscious of the Quinn group and praying that it'll be a great result for that as well and keep everybody in jobs.
The restructuring of the Quinn Group has wiped 500m euro (£442.5m) of debt from its books.
Irish Finance Minister Michael Noonan said the move would enable "the good and strong" businesses to continue to trade and grow.
He said there will be no impact on employment, on trade creditors or on the day-to-day operations of the Quinn Group.
Now that Sean Quinn has been removed from the companies that bear his name, some doubt whether there will be the same commitment to keep jobs in the area.
Toirbhealach Lyons who runs Molly Maguire's Pub in Ballyconnell, County Cavan said that although Sean Quinn had made very bad mistakes he had also created thousands of jobs.
"This man has created (jobs) and for this man to lose everything it is disgraceful," he said.
"Bankers who have robbed their people blind have got away with murder and it is absolutely disgraceful.
"Only for this man, Ballyconnell would have nothing and it's a sad day for us here in Ballyconnell that a lot of our industry, our businesses could be gone."
Jane Collins is the manager of Oakwood Childcare Centre in Derrylin.
"About 80% of the parents who come here with their children work for some part of the Quinn group," she said.
"I suppose yesterday was a very bitter sweet outcome for the families.
"Anybody working in the Quinn Insurance group were feeling a lot of relief that they knew the outcome of their jobs whereas other members of other parts of the Quinn group seem definitely to be a wee bit shell shocked and anxious about their own future."
Despite all of his personal troubles, there is still a great deal of loyalty to Sean Quinn in the community where he built his business empire.