Red Bay RNLI lifeboat volunteers rescue two men at sea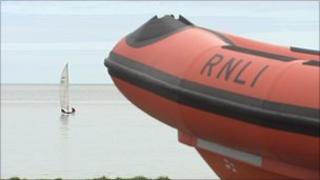 Volunteers from the Red Bay RNLI lifeboat have rescued two men after their vessel capsized off the north Antrim coast.
The men were travelling from Ballycastle to Scotland in a 9m landing craft when their cargo shifted and the vessel capsized around 0700 BST.
Lifeboat crew found the men east of Torr Head and brought them to shore.
The men, who were suffering from shock and hypothermia, were taken to Antrim hospital.
Red Bay RNLI lifeboat helm Paddy McLaughlin said: "The two men had been in the sea for over an hour and were feeling the effects of it as the lifeboat crew arrived.
"We administered first aid at the scene and transferred the casualties to shore immediately where they were met by ambulance."
This is the second callout for the Red Bay volunteer lifeboat crew in 24 hours.
Two divers were recovered from Cushendun on Saturday afternoon after they got separated from their dive boat.