Denis Heaney land deal claim 'farm on the line'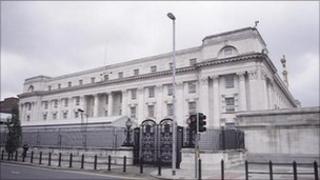 A County Derry property developer has been told he will have to put his farm on the line if he wants to continue with a £15m legal claim.
Brookview Developments, owned by Maghera man Denis Heaney, is suing CMG solicitors and David Ferguson Architects.
He claimed their actions led to the collapse of a land deal which cost him £15m.
Both firms deny liability and told the High Court they were concerned Mr Heaney's firm would not be able to meet their legal costs if they won.
Mr Justice Weatherup granted the two firms a "security for costs" order which will involve Mr Heaney depositing the title deeds to his Garvagh farm with his solicitors.
The farm, which is mortgage free, was bought by Mr Heaney in 2008 for £500,000 and is now valued at £350,000.
Mr Heaney's firm is taking the action in regard to a 2006 land deal.
'Not completed'
Brookview owned 20 hectares at Drumahoe, near Londonderry, and had reached an agreement to sell it, dependent on planning permission being achieved for the site.
Negotiations were completed on 31 May 2006, but the deal would only be completed if the planning matters were sorted out by 31 December 2008.
David Ferguson Architects of Holywood were to provide services relating to planning with CMG handling the legal aspects.
However, difficulties arose in relation to the planning and the deal was not completed.
Mr Heaney said this cost Brookview £15m, putting the company in financial difficulties.
Brookview's latest accounts, to 31 March 2009, show it has accumulated losses of £6.4m.
David Ferguson denies liability and claims Brookview owes it £127,000 in unpaid fees.
CMG also denies liability and said Brookview entered into a deal with other parties in 2007 under which Brookview could only receive a maximum of £7.5m for the Drumahoe site.
The case is due for a full hearing on 3 May.
Brookview has recently changed its name and is now called DAB Developments.