Rossorry Parish Enniskillen Bible reading marathon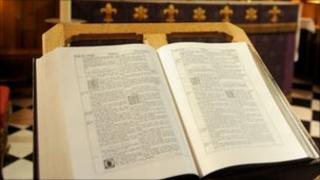 As 35,000 people rest their weary limbs in London, 180 people in Fermanagh prepare for a marathon of their own. One that could take over 96 hours to complete.
However, it isn't a race, but a marathon of a different kind.
The Rossorry Parish Church in Enniskillen has begun a non-stop public reading of the King James Bible, to celebrate the 400th anniversary of its publication.
The reading began on Sunday, and will go on uninterrupted until Thursday.
The King James Bible was first published in 1611, and Rossorry Parish Rector Arthur Barrett said they were looking for a suitable way to mark the occasion.
"We thought, why don't we read the bible? We wondered how we might go about that, and then we thought, why don't we just read it from beginning to end in one go? And it sort of mushroomed from there," he said.
The organisers have enlisted the services of more than 180 people, who will read every chapter and verse of the Bible in 30 minute segments.
In all, they will read some 788,000 words, and the marathon is expected to take at least 96 hours to finish. A feat that would make even Paula Radcliffe think twice.
Among the contributors is Archbishop of Dublin Michael Jackson, who is very supportive of the attempt.
"I think it's a wonderful idea," he said.
"The London marathon only happened within the last 24 hours, and for Christian people to take the book which lies at the heart of their identity, and to read it for all to hear and to see and to participate in - it is a jolly good idea."
Rev Barrett encouraged people to come along and support the church, which will be accompanying the reading with tea and coffee right through until Thursday evening.
"We'd love for people to come and share in the experience," he said.