50-50 police recruitment 'achieved a lot' - Baggott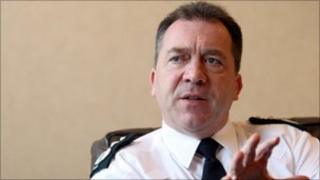 The PSNI chief constable has said 50-50 recruitment has "achieved a lot" but has refused to be drawn on whether it should be continued.
Matt Baggott said he believed decisions on such such policies should be a matter for politicians alone.
Nationalists are opposed to the end to 50-50, arguing it could undo increasing Catholic representation in the PSNI.
The issue is expected to be raised by Irish premier Enda Kenny when he meets David Cameron in London on Monday.
The 50-50 issue has become more prominent following the murder of PSNI constable Ronan Kerr, amid concerns that the deliberate targeting of Catholics could deter them from joining the police.
Mr Baggott said Mr Kerr's murder had been carried out by a "misguided minority" but said he would not comment on whether it was correct to end 50-50 Catholic and Protestant recruitment.
"For me as a chief constable to make a judgement on political choices, I think is the wrong thing to do.
"Do I think it has helped to reshape policing? I think it has. I share the view of my predecessor Hugh Orde on this.
"We are an organisation in which people have great confidence now because tough decisions were made and often painful decisions, one of which was 50-50.
"I think that a lot has been achieved through 50-50 but the future of it has to be a matter for politicians.
"I am delighted that we had people of such calibre and quality as Ronan joining us."
Community support
The former Leicestershire chief constable has also expressed his regret that hundreds of motorists were able to drive past a bomb inside a van near Newry earlier this month.
Police did set up a security cordon but it was not manned and when cones were removed many motorists drove through.
Mr Baggott said he was sorry safety was compromised but police sometimes had reasons for not manning cordons.
"Sometimes terrorists want to draw us into an area to kill my colleagues," the chief constable added.
"I don't think it's too much to ask people when they are driving down a motorway and see a road closed, that maybe there's a reason for that."
Mr Baggott is known for his dedication to community-based policing and has also warned that should not be an afterthought in the face of the dissident republican threat.
"It would be a mistake to say that policing can be separated into security policing and community policing when police officers rely upon community support to do their job, day-in and day-out."