Edward Carson denied blue plaque by English Heritage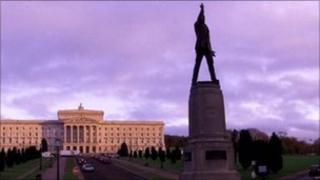 Among other achievements, he served as solicitor-general for Ireland and England, defended the Marquess of Queensberry against Oscar Wilde's claim of libel, cleared the Winslow Boy's reputation and was one of the founding fathers of Ulster unionism.
And yet Baron Edward Carson has been deemed inadequate by English Heritage.
The organisation has decided against erecting a blue plaque honouring the Dublin-born unionist.
London has about 850 of the plaques which commemorate historical personalities.
A panel chaired by historian Professor Sir David Cannadine selects about 12 names a year to be honoured on new plaques.
To be one of those 12, the subject must have "made some important positive contribution to human welfare or happiness" or else be so exceptional that "the well-informed passer-by immediately recognises their names".
The panel said Carson's career "in British politics was not sufficiently outstanding to justify commemoration".
'Lasting importance'
Among those given plaques this year are novelist Graham Greene and Hungarian David Gestetner, who invented one of the world's first machines for copying office documents.
Keeping Carson company in the reject pile is the Australian speech therapist Lionel Logue who helped cure King George VI of his stammer and inspired the Oscar-winning film The King's Speech.
Writer and "one of the stately homos of England" Quentin Crisp was denied a plaque because English Heritage said it was "too soon" to assess his "lasting importance".
Carson's over-arching political drive was to preserve the union between Britain and Ireland, believing it to be in the best interests of his fellow-countrymen.
In February 1910, he became leader of the Irish Unionist Parliamentary Party and in June 1911 accepted an invitation to lead the Ulster Unionists. He also served as first lord of the admiralty and in the war cabinet.
Baron Carson died in 1935 and is buried in St Anne's Cathedral, Belfast.