Randalstown 'kidnap gang thought they had brother'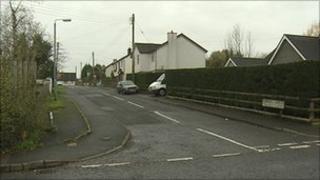 Kidnappers who held a County Antrim man for 24 hours thought they had snatched his brother, the High Court has heard.
The victim was imprisoned in the boot of his car and then a shed while a £60,000 ransom was demanded from his mother, prosecutors said.
The man was later released more than 20 miles from his Randalstown home without any money being handed over.
Details were disclosed as one of the suspects currently on bail applied for permission to return to his home town.
William Graham, 40, of Carntall Gardens, Antrim, faces charges of kidnapping and blackmail over the abduction last November.
He is currently banned from going back there because witnesses in the case either live or work there.
Fiona O'Kane, prosecuting, said the victim was seized by three hooded men armed with knives and sticks after he came back late at night from walking his dog.
His wrists and ankles were tied before he was forced into the boot of his BMW car and covered with a duvet.
The car was driven off with him in it, stopping at one point to get petrol, before stopping at a property near Armoy, the court heard.
A sack was put over the man's head as he was transferred to outbuildings and held prisoner for 24 hours, according to the prosecution.
Mrs O'Kane said a phone call was then made to his mother demanding £60,000 for the safe return of her son.
She added: "It became apparent the captors believed the person they had in their custody was the brother of the injured party."
The man was later driven to a dark country road just after midnight and released, crossing over fields to raise the alarm.
Mr Graham, who denies involvement in the kidnapping and is currently living in Millisle, was subsequently arrested by police in Antrim.
He was seeking permission to return to the town where his partner is due to give birth.
His barrister, Charles McCreaner, said Mr Graham was willing to be housebound apart from attending hospital.
The judge, Mr Justice Weir, refused to permit him to live in the town due to fears of possible witness interference.
But he indicated the bail conditions could be varied to allow Graham to attend the birth of his child.