Police suspect Belfast bomb 'attempt to lure officers'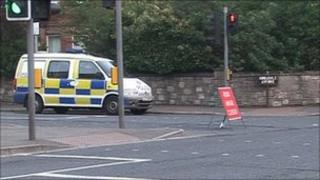 Police suspect a bomb left in south Belfast on Tuesday was an attempt to lure officers into the area.
Army technical officers were called to Annadale Embankment at about 0130 BST on Tuesday and the police helicopter was also launched.
The police said the device, which was attached to a stile at the top of a path leading to the Lagan may have been a trap to lure officers.
No homes were evacuated in the overnight security alert.
The road closure from Mornington Place to Wellington Square remains in place.
Police are expected to release more details later on Tuesday.