TA soldiers return from six month tour in Afghanistan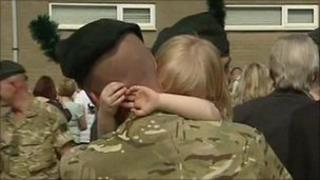 Territorial Army soldiers have arrived back in NI after their latest tour of Afghanistan.
The TA soldiers of the Royal Irish Regiment were greeted by cheering relatives, blazing sunshine and an army piper as they stepped off their buses in Newtownabbey and into the warm embrace of their families.
After a period of decompression they are now returning to their civilian lives.
They may be part-time soldiers but they serve on the front line just like the regulars.
Major Craig Jamison from 2 Royal Irish said that comes with it own particular problems.
"There is a welfare support mechanism within 2 Royal Irish for the guys to speak to," he said.
"If they need any professional help, that is again provided through the military by a fast track approach, because some of the things that these guys have seen, they will hopefully never see the rest of their lives."
Three soldiers from the Royal Irish Regiment died during the tour of Helmand and that was very much on the minds of those who returned home safe.
Ranger Peter Snoddy said it was "quite tough" for the boys.
"We lost a few men out there so it's obviously very sad for their families, but we're happy to be home."