David Ford pledge on effort to catch Devidas Paliutis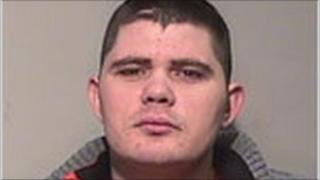 The justice minister has said the police are doing all they can to trace a man who was mistakenly released from prison and is now wanted over a murder.
Devidas Paliutis was freed in error from Maghaberry last autumn and has not been found since.
He was being held on charges including rape. He is now wanted in connection with the murder of a Ukrainian man in Kilkeel on Saturday.
David Ford said the issue was being taken "very seriously".
Serious
He defended the steps taken since last year to trace Mr Paliutis, who is wanted over the shooting of 29-year-old Dmytro Grysunov in the County Down town.
"There was a detailed examination which followed up his previous known haunts," Mr Ford said.
"Those involved both County Armagh and County Monaghan locations.
"He wasn't found as a result of that. It appeared he had left Ireland completely. He may indeed have done so and returned - we simply don't know."
But the SDLP's Alban Maginness said there was "very little evidence" to support Mr Ford's suggestion that Mr Paliutus had left the country.
"That is an extraordinary claim," he added.
"It is more likely that he remained on the run here and that is a serious failing."
Mr Maginness said the PSNI and Department of Justice should have done more to apprehend the suspect following his release.
Mr Ford said additional steps had now been taken to strengthen the procedures which mistakenly allowed Mr Palutis to be freed, including additional staff and more training.
He said no one person had been found to be accountable for the mistake and therefore no-one had been disciplined.
That did not mean the issue was not being taken seriously, he added.
"I don't regard it as anything other than serious.
"We had to allow for the fact that when he walked out of jail, there is free movement of people across the European Union.
"He was not picked up in Northern Ireland or in the Republic.
Realistic
"Borders are relatively open. We need to be realistic about what we can expect."
Police also want to speak to another man, Ernestas Rudeckis, in relation to the shooting.
They have urged the public not to approach the suspects.
Earlier on Tuesday, police appealed for help in finding a third man. The 28-year-old has since been arrested and is being questioned at Antrim Serious Crime Suite.
A police spokesperson said: "Members of the public who believe they have seen these men or who know of their current whereabouts should contact police immediately on 0845 600 8000 or via the 999 system."
Mr Grytsunov was wounded in the chest during a row between two groups of foreign nationals.
A 32-year-old woman remains in custody and police have been granted a further 36 hours to question her in relation to the shooting.
Three men aged 31, 36 and 26 have been released on police bail pending further enquiries.
It is believed a dispute between the two groups started when a house was attacked at Haywood Way at 2100 BST on Saturday.
The trouble then moved to Rooney Park, where at least two shots were fired in the street. The attackers then fled the scene on foot.