Princes William and Harry go from boys to men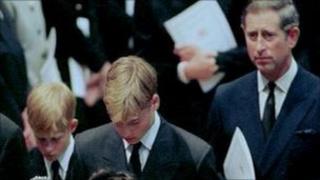 It is one of those pictures which sticks in your head - the two boys, heads down, struggling with their emotions, as they walked behind their mother's coffin, past hundreds of thousands of people.
I was on the roof of the ancient Westminster Hall that Saturday in September 1997 for BBC Radio 4, as Diana Princess of Wales' funeral made its way past, and round the corner to Westminster Abbey.
This Friday, I'll be in London again for Radio 4, this time in the Mall.
Those two "boys" will be back in my sights, as I sit in my commentary position opposite Stable Yard Road.
From there the Bentley will emerge carrying Princes William and Harry, the groom and best man, to that same church, but on such a very different occasion.
Back in 1997 the atmosphere was tangible.
The night before the funeral, the two young princes - William aged 15, already getting tall, and Harry just 13 - had come onto the Mall with their father and grandparents to look at some of the thousands of floral tributes which had been laid there.
The crowds were thrilled to see them, after a week of growing public concern that they were still at Balmoral where they'd been staying when news came through of their mother's tragic death.
This time though, I'll be among a very select band watching these two young men - select because all other eyes will be focussed on Kate (or is it Catherine?) Middleton.
Everyone wants to get a first glimpse of the bride - who will have made her dress? What style? Her hair up or down? With fresh flowers?
I'll be watching William, who now flies a search and rescue helicopter, and Harry, who's still hoping to be sent back to front line duty in Afghanistan.
So - which uniform will William be wearing? What will his hair be… don't be silly!
The world has changed in the 14 years from then - we've had 9/11, there's turmoil in the Middle East, and British society's dramatically different.
How will London react? Well already it's en fete - Regent Street decked in Union Flag bunting, the Mall, that grand avenue linking Buckingham Palace and Trafalgar Square, hung with flags on every lamppost.
Here, according to Sir Richard Phillip "used to promenade… the whole British world of gaiety, beauty and splendour". Will it be like that again for this one day?
And I can't but think back again to that September day, the amazement as applause rippled through those both outside then inside the Abbey when Charles Spencer vowed to "continue the imaginative loving way in which you (Diana) were steering these two exceptional young men so their souls… will sing openly as you planned".
Of all days, they should be singing on Friday.