NI guests attending William and Kate's wedding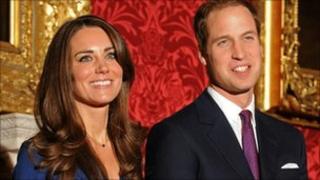 Only a handful of people from Northern Ireland have been lucky enough to secure an invitation to the wedding of Prince William and Kate Middleton at Westminster Abbey in London on Friday.
The Speaker of the Assembly, William Hay is among those attending, along with his wife Doris.
"I had to think for a while, was it April Fool when I first got the initial letter, but yes, I have to say I was surprised," he said.
"It is something I wasn't expecting at all because I know from speaking to other people that there have only been a very small handful of people in NI that have got official invitations to the wedding on Friday."
He said he would be there "very much representing the assembly".
"We're very much looking forward to it, it is very much a world international event," he said.
"It is also an historical event because you're really at the wedding of a future king."
Mr Hay met the Royal couple at a garden party at Buckingham Palace two years ago.
"Lovely couple"
"They were very relaxed, very easy people to get on with, very ordinary people," he said.
"They're a lovely couple and I think all of us here in NI wish them well."
Mr Hay said he had not been involved in helping his wife, Doris, choose her outfit for the wedding.
"I have to say it's a department I've stayed out of. It's a department I normally don't head up," he said.
"She has taken some time in deciding what she would wear.
"I think she now has all of what she is going to wear, but I wouldn't be surprised if there is a last minute bit of shopping to be done."
First Minister Peter Robinson and his wife, Iris, also received an invite. He will be attending alone due to his wife's illness.
"Iris would have loved to have gone. I really wish that she could have," he said.
"She's making steady progress but she's not yet ready to take on that kind of event."
Two senior figures from the Catholic and Protestant churches are also going to be in Westminster Abbey on Friday.
Archbishop Sean Brady said he was "pleasantly surprised" to have received an invite.
"I always regard it as an honour and a privilege to be invited to a wedding, it's a special moment in people's lives. I'm invited to many weddings but I don't get the opportunity to attend them all," he said.
"Good relations"
"I think we're at a different stage in the history of relations between Ireland and England.
"It's also an indication, I think of the good relations between the Catholic Church in Ireland and the Church of Ireland and we are also in the context of the visit next month of Queen Elizabeth to Ireland, so it's a new situation."
The Church of Ireland Archbishop of Armagh, Alan Harper also received an invitation.
The eight Lord Lieutenants in Northern Ireland have also received invitations and are all expected to attend the wedding.
It is not known how many invites have been issued to people south of the border.
The actress Amy Huberman, wife of Irish rugby player, Brian O'Driscoll has confirmed she is attending the wedding, despite having never met the Royal couple.
Her husband, who has met the Prince several times, had to pull out of the event as he is preparing for the Heineken Cup semi-final between Leinster and Toulouse on Saturday.
Her spokeswoman, Joanne Byrne said she was proud to be one of the few Irish people invited to the wedding.
"She's very happy to be representing her husband, and although not officially representing Ireland, she is very proud to be there," Ms Byrne said.
"Amy doesn't know any of the guests but it's something to tell future generations of the O'Driscolls."
The number of guests attending the wedding is completely over-shadowed by the total number of people worldwide who are expected to tune in on Friday to watch the ceremony on television.
It has been predicted that around two billion of us will do so.