Wellington Park Hotel extension plans revealed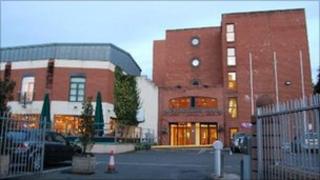 The owners of Belfast's Wellington Park hotel have announced fresh plans for its redevelopment and extension.
Last year planners blocked a proposal to demolish and rebuild the hotel alongside a new apartment block.
The Planning Appeals Commission said the development would have failed to create a quality residential environment and damaged the character of the Malone Conservation area.
The new plan envisions a partial demolition and rebuild.
The development will add 94 bedrooms and a number of serviced apartments.
The Wellington Park is a 75 bedroom hotel which varies between two and five storeys high.
The previous plan for its extension received more than 155 objections, although it was backed by Belfast city councillors.
The hotel is owned by the Mooney family who also control the Dunadry Hotel and operate the Armagh City Hotel.
The Mooney company which operates the Wellington Park showed an after-tax profit of £8,000 in 2010 compared to a £73,000 profit the year before.
The controlling company in the Mooney group, Dunadry Development Company Ltd, recently filed its annual accounts for 2010.
They show a pre-tax loss of £420,000, though a tax credit of £352,000, brings the annual loss to £68,000. That compares to a profit of £85,000 the year before.
Dunadry Development Company owns the freeholds of the Dundary and Wellington Park and leases the properties to subsidiary operating companies.
The company also owns 25% of Armagh City Hotel Ltd and Friary Road Enterprises Ltd.