Can the dissidents be brought in from the cold?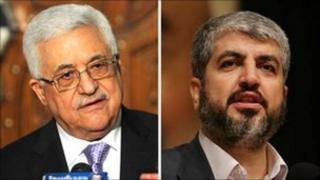 Over in the Middle East, some undercover negotiations brokered by Egypt have made a surprise breakthrough.
The Palestinian Authority has agreed with the more militant Hamas on a reconciliation deal.
No mean feat given that the two sides' bloody falling out led to the separation of the Palestinian territories and claims that one faction was executing the others' activists by throwing them off high buildings in Gaza.
The Middle East, even more than Northern Ireland, is like a game of three dimensional chess.
The deal between the Palestinians might be seen as positive by those who believe they must achieve unity before there can be meaningful discussions on a wider peace settlement.
'Futile offer'
But Israel's initial response has been negative - ruling out talks with any entity which now includes Hamas, who Israel views as terrorists.
You can have peace with Israel or Hamas, Benjamin Netanyahu, has told the Palestinian authority, but not both.
Here, the murder of Ronan Kerr and last weekend's very public threats from Real IRA masked men have led the police widow, Kate Carroll, and the Derry priest Fr Michael Canny to offer to meet the dissidents to try to persuade them of the futility of their violent campaign.
On Talkback yesterday, Sinn Fein's Martin McGuinness welcomed F Canny's initiative. Previously Gerry Adams has offered to meet the factions anywhere at any time to ask them to stop their attacks.
Unionists are less convinced.
The DUP's Gregory Campbell told the Newsletter Fr Canny's offer was "totally and utterly futile". At this stage, argues Mr Campbell, offering talks will be seen by the dissidents as a sign of weakness.
"They have to be brought to the point where they realise there is no point in violence and they're nowhere near that," Mr Campbell said.
We have been here before and past precedent can be cited by both camps.
Moral case
The Provisional IRA heard eloquent and emotional arguments, put face to face, by people like Gordon Wilson, who lost his daughter in the Enniskillen bomb.
But despite the undoubted strength of Mr Wilson's moral case they did not stop.
It was only when the former SDLP leader John Hume, assisted by influential Irish Americans, came up with a road map dealing with questions like self determination and Stormont institutions in which republicans could participate, that the Provisionals called a halt.
That said, unionists don't have a great track record on identifying when the time is right for talks to begin.
Mr Hume was lambasted by them when he embarked on his dialogue with Gerry Adams whilst the IRA continued its violence.
If he had heeded their advice then, what would have been the consequences?
Real-politik
What's clear is that anyone who deals with these dangerous and unpredictable factions needs to be armed not just with eloquence and morality, but a keen sense of real-politik.
What do the dissidents want and what, if anything, can be offered? It's hard to see the Hume solution - joint referenda on both sides of the border on a deal, institutions at Stormont with safeguards for the minority, an acceptance of the principle of consent, and a promise of future referenda if the numbers game changes - being bettered.
But maybe there are more limited areas, say prison issues, where society might be able to consider the dissidents' perspective.
The dissident factions may seek to use any intermediaries for propaganda advantage. Equally, they may throw the latest offers of dialogue back in the faces of those who make them.
Some of the dissidents seem to have deliberately eschewed the business of talking to go-betweens and forming political front groups, as they regard this as the first step on the road to being seduced away from violence, just like the Provisional and Official IRA before them.
Perhaps, just like the Provisionals' old twin track armalite and ballot box strategy, society has to keep its options open.
If with a mixture of talks and a firm police and judicial response the dissident campaign is neutralised, who will say that was wrong?
'Too early to tell'
Sometimes it's not clear exactly what lies ahead.
When Fr Alex Reid first became involved with the IRA it was to mediate in feuds taking place between its Provisional and Official factions.
Just as Israel sees nothing positive in today's coming together of the Palestinian camps, back in the 1970s many unionists would have been more than happy for the republicans to go on killing each other.
But the status and trust Fr Reid established with the Provisionals was later put to use in support of the wider peace process.
What do I think about dialogue with the dissidents? As the former Chinese Premier Chou En Lai once said when asked for his views on the French Revolution, "it's too early to tell".