Irish Guards prepare for royal wedding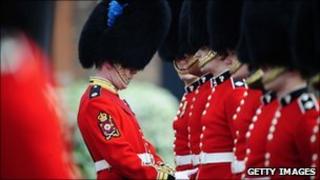 A drill sergeant with the Irish Guards has spoken of the battalion's pride in taking part in the royal wedding arrangements.
Prince William, appointed colonel of the Irish Guards in February, is due to marry Kate Middleton on Friday in front of a television audience of billions.
Glen Stevenson, who is from Northern Ireland, said it was an "unbelievable honour" for the guards to be involved in the pageantry of the occasion.
He said they had spent several hours on the drill square at Victoria Barracks in Windsor this week in preparation.
"We have inspected the kit numerous times to make sure everything is 100% and the way we need it to be so we stand out on Buckingham Palace forecourt tomorrow when the service is going on," he added.
"We will guard the palace until tomorrow before the service starts and then we will present our colours to the royals as they come out to go to the service.
"It is an unbelievable honour for the guys, especially the young guardsmen who have never done this before with thousands of people in front of them.
"But we are very happy to do it."
Mr Stevenson said a number of the Irish Guards taking part in Friday's proceedings had just returned from service in Afghanistan.
"They are 100% ready if they were not ready we would be rehearsing right now," he added.