Newry court hears policeman was 'dragged along by car'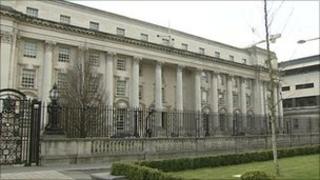 A policeman was dragged along as he tried to stop an alleged vehicle thief, the High Court has heard.
The officer was also head-butted and punched after the car collided with an oncoming lorry near Newry.
A judge was told he had tried to seize control of the handbrake amid fears a young boy could be knocked down.
Paul Byrne, 20, of Carnegat Cottages in the city, faces a number of driving charges over the 25 February incident. He was refused bail.
Pizza van
The charges include dangerous driving, failing to stop and driving while disqualified.
He is also accused of assault occasioning actual bodily harm.
Mr Byrne is separately charged with aggravated vehicle taking and failing to report or remain at an accident following an earlier theft of a pizza delivery van.
That vehicle had crashed into a road sign and then collided with an Audi A4 last June.
The accused had been released on bail but was then allegedly spotted by police in two different cars on dates in February, the court heard.
Crown counsel Philip Henry claimed Mr Byrne was again seen driving one of the vehicles on the Dublin Road.
He alleged that the accused swerved into a lay-by before police tried to block him off and an officer attempted to get into the car.
"The police officer was half-in, half-out of the vehicle. At that stage he was dragged along with the car," Mr Henry said.
"The police officer shouted at him to stop. He refused to do so and the officer was trying to grab the handbrake, but at that stage the applicant sped up."
'Danger to the public'
Opposing bail, Mr Henry said a young boy had been standing at a chip van close to the incident.
He added that the car then changed direction and headed for the main road before striking an oncoming lorry.
Mr Byrne is to make concessions over the 25 February incident but is denying the earlier allegations, the court heard.
His barrister sought bail on the basis of him having spent more than 60 days in custody.
He also stressed the support and positive influence available to the accused from his mother.
But the judge refused bail, citing danger to the public if the accused was released.
Mr Justice Gillen said: "If the Crown evidence is right he engaged in simply appalling driving which risked not only the life of a police officer, but also the lives of other members of the public."