Family member of Shankill bomb victims attacked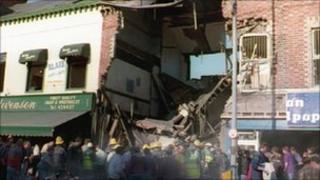 A man who lost three members of his family in the Shankill bomb has said his 15-year-old grandson has been beaten up in a sectarian attack.
Charlie Butler's grandson was knocked to the ground and repeatedly kicked in the head by youths in Belfast city centre on Easter Tuesday.
Mr Butler says his grandson had been left "traumatised" by the attack.
Police are investigating the incident and have said a sectarian motive is one line of enquiry.
The boy, from north Belfast, was on his way home from Crawfordsburn with three friends when they were approached by a gang of youths on the corner of North Street and Royal Avenue.
Mr Butler said the gang had their hoods pulled up and that one of them was wearing a Celtic top.
As a Junior Orange Order parade had just passed through the area, Mr Butler believes the attack was motivated by "sectarian hatred", and that his grandson was simply in the wrong place at the wrong time.
'Totally shameless'
Mr Butler said that one of the group knocked his grandson to the ground with a head butt, before the rest joined in, kicking him in the head as he curled up in a ball to protect himself.
At that point, he said, a car drove past and two men got out to chase the attackers away.
The teenager sustained injuries to his eye and cheekbone, his hands from where he tried to protect himself, and the back of his neck.
"I just thank God that the two lads stopped and helped my grandson, because I would hate to think of the consequences (if they hadn't)," said Mr Butler.
"But what about the next young lads? They mightn't just be as lucky."
Shankill bomb
Mr Butler lost three members of his family in the 1993 Shankill bomb, before his grandson was born.
Mr Butler's niece Evelyn Baird, 27, her partner Michael Morrison, also 27, and their daughter Michelle Baird, just seven years old, were all killed when IRA bombers blew up a fish and chip shop on the Shankill Road.
Their intended target had been an alleged meeting of loyalist paramilitaries in a flat above the shop, when the bomb exploded prematurely, killing one of the bombers and nine other people.
Mr Butler said that none of his family had been "brought up with hatred", and expressed his dismay at the continuation of sectarian violence in Northern Ireland:
"I thought we had moved on from it. It's totally shameless," he said.