Constituency profile: South Down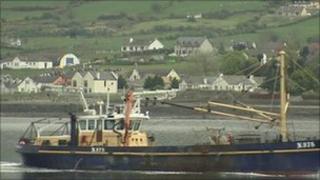 South Down is one of Northern Ireland's most picturesque constituencies, where - as the song has it - the Mountains of Mourne roll down to the Irish Sea.
There are hopes further expansion in the local tourist industry may offset the impact of the economic downturn.
But there's plenty of evidence of the impact of the current financial climate and public sector cuts.
During the assembly election campaign, redundancies were announced at a Kilkeel glass factory, whilst there's continuing controversy over the downgrading of the new Downe Hospital's accident and emergency services.
The toddlers who attend the Home Start play group in Newcastle won't get to vote for many years.
But they are already on the front line when it comes to cuts.
The playgroup helps families facing challenges like domestic violence and addiction. But it lost its health trust funding at the end of March.
Home Start organiser Donna Neill sees the election as a last chance for survival "we would like the voters, when the politicians arrive on their doorstep, to ask them directly what they are going to do for organisations like Home Start, who are supporting and protecting families in the local community".
Canvassing in her hometown of Downpatrick, SDLP leader Margaret Ritchie stops to talk to voters about their main concerns.
Ms Ritchie believes this election should be all about who has the ideas to create prosperity.
"How do we make ends meet? How do we stay in our jobs? What's the ability to create new jobs to make us a strong economy?" she says.
The SDLP was well ahead of Sinn Fein in the Westminster election, but the gap's much closer when it comes to assembly contests.
Ms Ritchie had a majority of more than 8,000 over Caitriona Ruane last May, but it's thought tactical voting by unionists played a part.
At the 2007 assembly election the gap between the two nationalist parties was just over 300 votes.
Rates
On a walkabout in Warrenpoint, Catriona Ruane meets a woman concerned about the increase in her rate bill.
She defends Sinn Fein's record, pointing out that her colleague Conor Murphy did not introduce water charges.
County Louth, where Gerry Adams triumphed, is visible just across Carlingford Lough, and Catriona Ruane believes nationalists in South Down are well aware of Sinn Fein's growth across the border.
"Will there be a bounce?" she responds to my question, "we'll just have to wait and see. I mean, really, why people are voting for us is our national politics, our all-Ireland politics, but also the work we do locally."
If both nationalist parties sense an opportunity, it's because a change in South Down's boundaries could alter the nationalist unionist balance.
Unionist voters around Ballynahinch have been shifted into the neighbouring Strangford seat.
It's been calculated the shift makes South Down 3% less Protestant and that could make the contest between the Ulster Unionist deputy leader John McCallister and the DUP's Jim Wells very tight.
Fishing quotas
At Kilkeel harbour, Jim Wells discusses the decline in numbers of white fish boats with the last white fish trawler-man Trevor McKee.
Given the dominant role played by Europe, Mr Wells is frustrated he can't do more about fishing quotas. But he admits his thoughts are also on how many unionist quotas South Down will yield.
"I think we're going to require a really hard fight on the ground to ensure that two unionists, obviously including myself, are elected on May 5th," he says.
Mr Wells should be in pole position to survive as he was more than 1,000 votes ahead of John McCallister in 2007.
However the Ulster Unionist deputy leader points out that many of the DUP's votes came from the area which has now been taken out of the seat.
Over in Rathfriland the local butcher tells Mr McCallister that his business is pared back to the bone.
But the Ulster Unionist is determined he will survive the constituency carve up.
"Certainly the boundary change has not helped," he admits "but we're going out and fighting for every vote, every transfer that we can get."
The Alliance's David Griffin, the Greens' Cadogan Enright and the UK Independence Party's Henry Reilly are also standing in South Down.
Last time officials took 11 counts before declaring the constituency's final assembly member elected - this time the process could take just as long.