Bomb alert at Andersonstown News office ends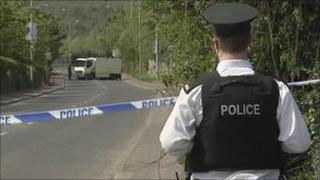 A suspicious device discovered near the offices of the Andersonstown News in Belfast has been declared a hoax.
An object was found in the grounds of the newspaper on Glen Road in the west of the city at around 0900 BST on Saturday.
Army bomb officers examined the device and it was declared a hoax.
Police said Glen Road, Suffolk Road and Hannahstown Hill have now been reopened.
A separate security alert in Carnlough, County Antrim has also ended.
Police received a phonecall just after 0800 BST on Saturday claiming two devices had been left on the Croft Road.
A search was carried out and nothing suspicious was found.