Clergy set the pace for Belfast Marathon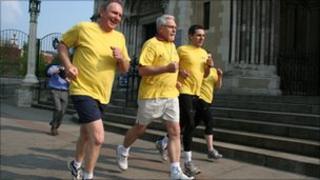 A group of leading clergymen from Northern Ireland will join forces to run the Belfast City Marathon on Monday.
Bishop Harold Miller, former Presbyterian Moderator Stafford Carson and former Methodist President Ken Todd are part of a relay team who hope to complete the 26 mile race around the city.
The clergymen will be joined by over 100 runners who want to raise funds for, Tearfund, which is a Christian international relief and development agency.
They will be running to support Tearfund partner, the Kale Heywet church in Ethiopia.
"The average life expectancy in Ethiopia is 48 which would mean that half of our team wouldn't be alive to make this run," said Bishop Miller.
"We are pleased therefore to be supporting this Ethiopian church, supported by Tearfund, which has already helped 70,000 people by setting up savings schemes and small businesses."
The teams hope to raise £10,000 for 20 Ethiopian churches to help them support small businesses.