50k of band equipment destroyed in Derry arson attack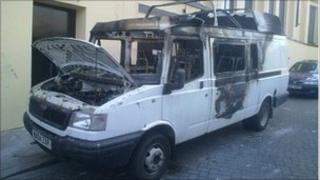 A van containing around £50,000 worth of band equipment has been burnt out in Londonderry.
The van along with another vehicle was set alight in the Fahn Street and Magazine Street areas of the city.
Police are treating the attack, which happened at around 0430 BST on Saturday, as arson.
It is believed the van belonged to a band performing as part of the City of Derry Jazz and Big Band Festival.
The PSNI have appealed for anyone with information to come forward.