Glenarm Castle tulip festival underway in County Antrim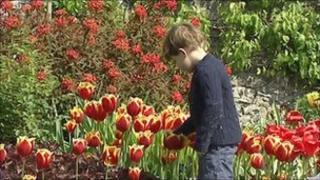 One of the biggest tulip festivals in the UK is in full bloom in the grounds of the walled garden of Glenarm Castle.
Over eight and a half thousand bulbs of a hundred different varieties were planted in preparation.
The five-year-old festival is just one of the events taking place over the May bank holiday at the castle.
The castle will also be open to the public for guided tours.
Lady Aurora Dunluce said it was a very important festival for the castle.
"The gardens open from May to September so we always open with this display of incredible display of colour," she said.
"It's a great opportunity for people to wander around and see what grows well in Northern Ireland and look at what they might like to plant in their gardens for the following year."
The garden will evolve throughout the summer season. The tulips will soon make way for roses and peonies, other herbacious plants take centre stage in the summer.
"People love it - it's like walking into a sweetie shop, seeing all these incredible colours," added Lady Dunluce.