Copy-Kate: Replica dress unveiled in Belfast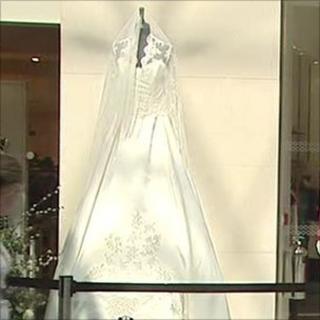 A replica of Kate Middleton's wedding dress has gone on display in Belfast.
The gown was put together in less than 24 hours by House of Fraser designer Mary Rose McGrath and her team.
Hundreds of people have been admiring the creation at the Victoria Square Shopping Centre in Belfast.
It takes inspiration from the ivory Chantilly and English lace gown, worn by the new Duchess of Cambridge as she walked up the aisle of Westminster Abbey on Friday.
"We have been so busy. Myself and all the girls are just wrecked, but we are delighted with the result that we have," said Mary Rose.
Work on the dress started as soon as Kate stepped out of the car at Westminster Abbey.
"Somebody was on pattern cutting, I was sketching and somebody was working on construction.
"It's all turned out brilliantly, but we're really exhausted," she added.
Mary-Rose said brides across the world will be clamouring to replicate the original design by Sarah Burton at Alexander McQueen.
"I think it will be a huge influence. The dress was very beautiful, elegant and very timeless.
"She just looked like a princess."
Copies of the dresses worn by Kate's bridesmaids are also featured in the display, alongside a replica of her tiara made by designer Laura Fiona Rankin from Coleraine.