Fishy Business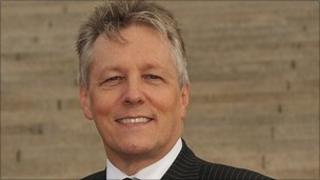 Just as I have done after previous Inside Politics election programmes, I planned this afternoon to summarise the main points of my interviews with the DUP leader Peter Robinson and the Workers Party's John Lowry, before looking forward to polling day on Thursday.
The DUP leader called in on the BBC this morning and, as they said about the Titanic, he was alright leaving me. But around the time his interview was being broadcast on BBC Radio Ulster he was back at his house in Dundonald where, according to his own account on Twitter, he decided to clean up the fish pond where he keeps his beloved Koi carp. During the delicate task Mr Robinson slipped on some algae beside the pool and took a tumble into the water. He tweeted that his family convulsed with laughter and the "First Minister issue was almost settled" there and then.
On Inside Politics, Mr Robinson had been blaming the media for making this such a low key campaign. So did he take a decision to sacrifice his dignity in the cause of enlivening the election? No doubt the conspiracy theorists will be out in force, demanding to inspect the fish pond CCTV.
Whilst Mr Robinson (somewhat tongue in cheek) may be looking for sympathy, his critics have jumped on the mishap to claim the DUP is in "deep water" or "slipping on slime".
Anyway the fishy tale will no doubt net more headlines than my cross questioning of the First Minister on his party's pledges on water charges and tuition fees. Peter Robinson denied that the DUP plans anything as Machiavellian as ruling out "additional water charges" but then boosting the general rates to pay for water. He claimed that local universities could prosper even though their competitors across the water will have access to extra funds from fees. He seemed fairly hopeful that his party is on track to remain the biggest group at Stormont.
More to the point, you could hear what Mr Robinson was saying - which didn't apply to poor Danny Kennedy over on the Politics Show on BBC1. The former Ulster Unionist Deputy Leader sounded as if he'd talked himself hoarse on the campaign trail. If lozenges couldn't do the job, you had to wonder whether the UUP should have deployed a substitute to preserve what's left of Danny Kennedy's vocal chords.
Back on Inside Politics, I was also joined by the Workers' Party's John Lowry. The Workers Party is running in all four Belfast seats, even though they haven't had a councillor elected here since 1997. In their manifesto, they call for an end to the Stormont nationalist/unionist designation system and the mandatory coalition. The manifesto is called "New Politics", even though the Workers Party has been around since 1970 (the party has its roots in the old Official IRA). Mr Lowry says he's been in touch with the other left wing parties in this campaign about forming a common front.
I'm writing this in our election studio, where we have been running through fake results and interviews in order to check out our camera angles and communications. It always makes the count feel that much closer wen you get to this stage.
Later today the comedian Eddie Izzard is on walkabout in Belfast City Centre together with local Yes to AV politicians. If all goes according to plan, you should be able to hear what he gets up to on tomorrow's "Good Morning Ulster". The BBC's guidelines on the AV referendum say we should achieve "broad balance" in covering both camps. However, to be honest, this job has been made more difficult by the fact that the No to AV camp in Northern Ireland have been all but invisible since their spectacularly disappointing rally at the Ulster Hall (only seven people showed up).
Whilst blaming broadcasters for not stimulating more interest in this campaign, Peter Robinson said the BBC was putting the leaders on "at midnight" on Tuesday. Just to clarify, the BBC leaders' debate goes to air on BBC 1 at 10.40 pm on Tuesday. The team behind it tell me they are giving individual voters the chance to question the politicians, so let's see if the programme generates a bit more interest. Maybe, taking Peter Robinson's cue, they could introduce their very own on stage koi carp pool, together with politicians sat on ejector seats, operated on the basis of an audience vote. Now that would pack them in.