Woman takes on 1,000 mile charity kayak challenge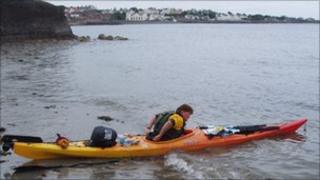 Northern Ireland woman Elaine Alexander is to set off later on a solo trip of 1,000 miles around Ireland in a kayak.
Ms Alexander will battle tides, cliffs, headlands and the Irish weather in her bid to raise £10,000 for the Share Holiday Village where she works.
The charity based at Lisnaskea, County Fermanagh, is a recreation facility for disabled and non-disabled people.
Ms Alexander hopes to become the first woman to navigate the Irish coast in a kayak.
Last year, she took 26 days to paddle around the coastline of Ulster - a 350-mile journey.
"That prepared me for some of what to expect for this expedition," she said.
"I am out training at least three times a week, paddling short distances of about 10 miles with longer coastal trips at the weekend.
"I also spend three nights a week working on maps, planning the route, rest areas and calculating tides."
Ms Alexander's journey will begin at County Antrim Yacht Club in Whitehead on the shores of Belfast Lough. Almost immediately her first challenge is to cross Belfast Lough's busy shipping channel which includes the fast moving Stena HSS.
From there she will continue her clockwise route before returning to the same location in about two months' time.
Details of her journey will be posted on Canoe Around Ireland.