Londonderry suspect device was 'elaborate hoax'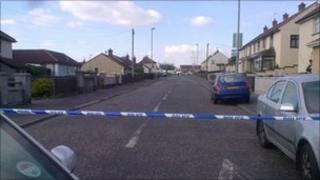 A bomb alert in Londonderry has been declared an "elaborate hoax" by police.
A suspicious package was discovered in the garden of SDLP council candidate Jim Clifford's home in the Creggan estate, early on Tuesday morning.
Dozens of people had to leave their homes as a safety precaution.
All roads in the area have now been reopened. Mr Clifford said it was "an attack on the entire community".
"Neighbours, friends and family have had to be evacuated and during the school rush parents and children have been frightened and severely inconvenienced. Elderly neighbours have been brought from their beds," he said.