Glee role for Londonderry teenager Damian McGinty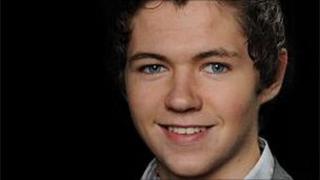 A Londonderry teenager is in with a chance of winning a guest role in the hit series Glee.
Eighteen-year-old Damian McGinty is one of 12 contestants on a new US talent show entitled The Glee Project.
The winner of the show will be cast in a seven-episode guest role in season three of Glee.
Mr McGinty is not new to success, having sold almost one million records with his vocal group Celtic Thunder.
The Glee Project will consist of 10 episodes, during which contestants will take part in workshops, singing, dancing and acting assignments.
Glee creator Ryan Murphy will serve as one of the judges, and cast members from Glee will make guest appearances throughout the new series.
Celtic Thunder
Mr McGinty is no stranger to the limelight. Celtic Thunder, formed in 2007, have gained increasing popularity in the US, touring extensively and releasing six studio albums.
As their profile has increased, so has their success. In 2009, they opened the St Patrick's Day parade in New York City, and performed for President Obama and then Taoiseach (Irish prime minister) Brian Cowen later the same day.
Their most recent album, Heritage, was ranked number one on the Billboard World Albums Chart in April.
Mr McGinty will be making his first appearance on The Glee Project when it begins on the Oxygen network in the US on Sunday, 12 June.