NI Department of Education lodges Loreto school appeal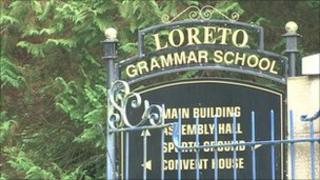 The Northern Ireland Department of Education has lodged an official appeal against a successful judicial review by a County Tyrone school.
Loreto Grammar School in Omagh was promised new premises by a previous education minister in 2004.
However, this decision was reversed by Catriona Ruane.
The minister said the school would instead be re-built as part of a multi-school complex at Omagh's former Lisanelly Army camp.
The high court judgement said the school had been treated unfairly in what amounted to an "abuse of power", and it quashed the decision not to build the £15m school.
It also quashed the decision which declared the school's plans were not compliant with Department of Education policy.
Solicitors for the school said the appeal was lodged within the time limit, but it is not clear when it will go to court.
The case centred on £14.6m of investment the school believed it was promised in 2004 through a public private partnership (PPP) for a new build.
'Breach of trust'
It was announced by the then direct-rule minister Barry Gardiner as part of a major expansion plan for schools across Northern Ireland.
However, proposals were later made for a shared education campus on the site of the old Lisanelly military barracks.
Last summer, Loreto was included in eight schools rejected for new building plans for non-compliance with policy.
Lawyers for the department argued in court that no final decision had been taken on the proposed construction.
But Justice McCloskey concluded that the conduct, delay and inactivity of the minister and department officials frustrated the legitimate expectation of the governors that a new Loreto Grammar School, financed by public funding, would be built on the existing site by 2010 at the latest.
"An unjustifiable breach of trust has occurred," the judge said.
He further found that no proper consideration was given to the governors' expectations when the relevant ministerial decisions were made.