Fire damaged premises 'being used to launder fuel'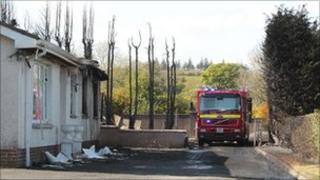 HM Customs has said it now believes that part of a building badly damaged in a fire in County Armagh was being used as a fuel laundering plant.
Firefighters were alerted to the blaze on the Cladymore Road in Carrickatuke, County Armagh, at 1255 BST on Tuesday.
A house and attached outbuilding were badly damaged.
Customs said a fuel tanker, oil drums, fuel and other equipment, commonly used in fuel laundering, were found in the remains of the outbuilding.
"Due to the intensity of the fire the damage to the property was severe and it has been difficult to ascertain exactly how much fuel could have been involved or the scale of the laundering operation," the statement added.
Enquiries are continuing into the incident.